sharing Patrick Berghman's exacting standards and vision
Today, Patrick Berghman is a key figure in Corsican organic citrus farming. He has shared with them his vision of the future of agriculture: preserving the environment through the development of organic farming. He passed on his vision and encouraged many of them to convert to organic farming. Clementines, pomelos, kiwis, oranges, lemons and limes have all been converted to organic production.
At the same time, Patrick Berghman is also a point of reference for French and foreign wholesalers (Biocoop, Naturalia, Marcel et Fils, etc.). Historically, he has maintained a relationship of trust and sharing with them. Remember that he has been growing organic produce for over 30 years...
Naturally, it seemed logical to create the Maison Berghman brand. A marketing tool for small producers with the same requirements and vision as Patrick Berghman.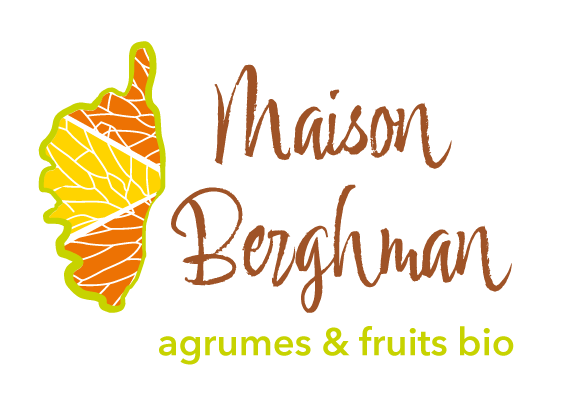 We cultivate our singularity, farmer-traders, Bio is our identity.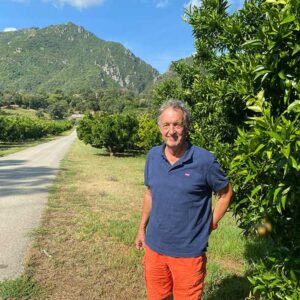 Patrick BERGHMAN
Président SAS Patrick Berghman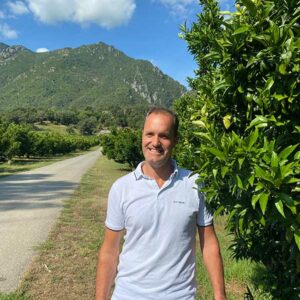 Serge BERGHMAN
Sales Director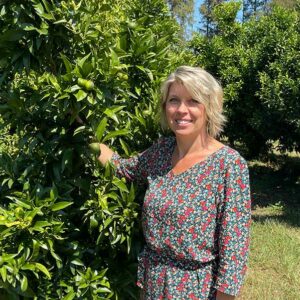 Laurence GRANDJEAN
Commercial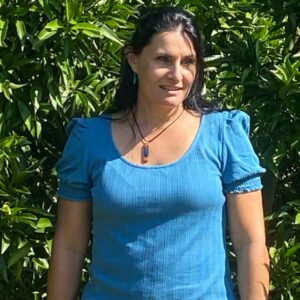 Dominique CAPLIN
Accounting and administrative secretary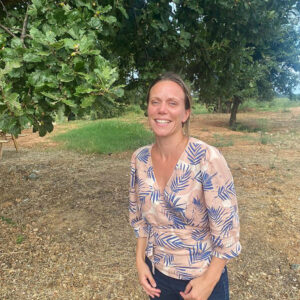 Hélène Baudouin
its sales and logistics assistant
A 100% organic packaging station
FEMU BIO was set up in 2019 to handle volumes of organic fruit in the best possible conditions and to meet your needs and the demands of the market as effectively as possible.
Proof of our total commitment, Femu Bio is a packing and shipping station for organic fruit only. A little hint: Femu Bio in Corsican means "Let's go organic".
This platform is the result of a joint investment by two marketers, including SAS Patrick Berghman. Pooling, optimising, making quality accessible to as many people as possible, adapting and responding to your requests. These are the values that Berghman stands for.
Our platform allows us to control the entire marketing of our production. We guarantee total traceability. Labels are validated beforehand. They include all the regulatory information (product origin, variety, size, net weight, label, etc.).
The different stages of packaging
Agréage

et

tri des fruits

en respect des cahiers des charges IGP pour la clémentine et le pomélo de Corse

Pré calibrage / Calibration
Conditionnement
Stockage
Traçabilité
Expédition
A variety of packaging options
We offer various types of packaging, depending on the fruit and the PGI specifications. Each fruit sheet will show you our packaging options.
IFCO reusable plastic crate

cardboard box

honeycomb tray

net
In packages of 2, 4, 6, 10 and 14 kg or in paloxes
Certifié Ecocert, AB, analyse et maîtrise des risques sanitaires HACCP,

We are equipped with essential IT tools and software for all our production, packaging, traceability and sales management. And we are audited by CERTIPAQ, an approved body.
Our first concern in terms of shipping?
Guaranteeing you the very best in fruit freshness!
Shipping is an essential stage for you and for us. That's why we do everything we can to keep delivery times as short as possible. Drawing on our many years of experience, we work with a number of carriers and can provide you with support if you wish.
Some of our shipments are accompanied by a phytosanitary certificate issued by the Plant Protection Service (SPV).
You or your carrier can collect your orders directly from our packing station.
Alternatively, we can deliver to you. We work with local carriers.
The preparation time for your order can vary from 24 to 72 hours depending on the quantities required.
Les livraisons hors de Corse
If you want to work with your usual carrier, we can adapt to your logistics.
We leave the goods at the disposal of your carrier at the Châteaurenard depot.
If you do not have a carrier, we will work with you to find the best route to your delivery point.
With many years' experience in shipping fruit, we already work with several carriers on the continent covering all regional areas.
on Tuesdays and Thursdays, for different fruits.
Grâce à notre gamme étendue de fruits, nous sommes à vos côtés durant 10 mois : de début septembre à fin juin.
Our aim is to be involved over a long period of time, throughout the year, and over the long term. In the same way that it takes time to structure our orchards, we like the idea of building commercial relationships.
While we're proud to have been one of the pioneers of organic farming, we're even prouder to have maintained lasting relationships with some of our early customers.
Whether you are 
specialist distributor or wholesaler

national brand

buying group

independent shops

farm shops 

AMAP

transformation industry

Local authorities

Out-of-home catering
We listen to your needs.
La confiance, valeur forte de la Maison Berghman, est le socle que nous souhaitons partager avec vous et notre transparence en est la garante.
Laurence Grandjean
Commercial House Berghman